Hong Island, a significant tourist destination off the coast of Krabi in Phang Nga Province, is a rare and undiscovered gem just waiting to be explored. This island consists of four exotic tropical islands that can be reached in 20 to 30 minutes by speedboat from Ao Nang. Hong Island is where all adventure fans and nature lovers want to be. Some even call the island a fascinating place in Krabi province. The island takes its name from the high cliffs or eroded caves as they are called.
These cliffs surround a large lagoon. As the island is part of a national park, the central atoll is uninhabited. The twin bays on the east side of the main island are proving to be a significant draw for forward-thinking people to the kayak. One could even sit by the stunning bay and watch the beautiful tropical birds, the famous monitor lizards, and the northern barnacle gibbon. So, visit Hong Island this holiday season and be one of the lucky few to witness the natural beauty of Phang Nga Bay.
Things to Do at Hong Island
Snorkeling and Kayaking: Like many other islands in Thailand, Hong is also quite famous for snorkeling and kayaking. Most tours include these two activities during your visit to the island. They also provide you with the equipment and the safety instructor.
Top Adventure Park: Visiting this place can be like a dream come true for those who love heights. This incredibly cool place is in the middle of the forest, which you can reach by bike. At Tree Top Adventure Park, you can ride the zip line, from where you can see the island's scenic landscape. 
Discover the hidden lagoon: this is where the island got its name from. You can visit the lagoon by boat, but only at low tide. High cliffs surround the lagoon. You can also go kayaking here. This is a great place to relax and enjoy the island's scenic beauty.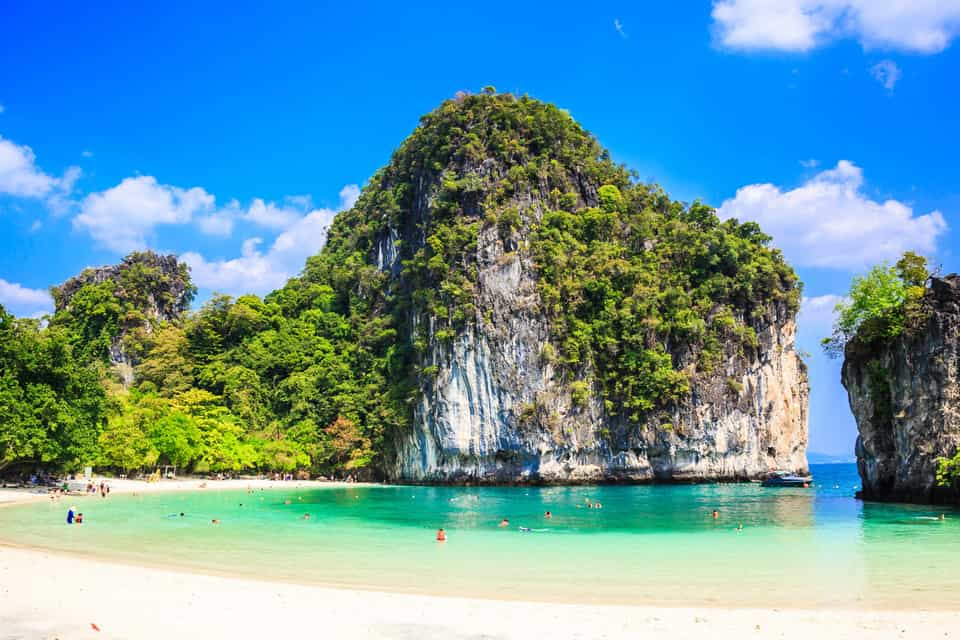 Places to Visit at Hong Islands 
Pak Bai Island: Pak Bai Island is dotted with small but quiet beaches, and a maze of caves eroded into coastal cliffs. Part of the island has fantastic coral reefs and a shallow beach that is great for snorkeling and fishing. The part of the island where the boats drop you off has turquoise waters with a white sand beach where you can relax and maybe swim. 
Lading Island: Bird's Nest Soup, a famous delicacy throughout Asia. However, meanwhile, the island has become one of the most impressive and famous places in Krabi province. Not so much for the beautiful beach, but tourists generally visit this place for its vast caves and rock formations.
Daeng Island: Located halfway between Ao Nang and Hong Island, Daeng Island is popular with visitors for its beautiful coral reef. The coral deposits are such that you can see them from the water surface at low tide. This quaint little island is an excellent place for snorkeling and spending a few hours away from the chaos.
Hong Island Tour:
Usually, people prefer to visit Hong Island as part of a tour. There are various affordable tour packages to choose from online. You can choose your mode of transportation, i.e., via speedboat or longtail boat. However, speed boot packages can be slightly more expensive than extended tail boot packages.
Packages, including snorkeling, canoeing, or kayaking, include equipment and a guide. Most packages include lunch, snacks, and basic accident insurance. However, they may not include entrance fees to the national park where the island is located. Sightseeing and jungle trekking on tour can be a lot of fun.