Koh Kradan, located in the Trang Province of Thailand, is about 40 to 50 minutes from the mainland. Of all the numerous islands that make up Thailand, Koh Kradan has the most beautiful beaches. Therefore, your sunrises and sunsets on this island will be extremely dazzling, and it might even seem like the emerald green sea and purple sky are merging. There is much to see and discover on the island. Its interior consists of huge rubber and coconut plantations.
Koh Kradan also offers plenty of adventures for those looking for an adrenaline rush. Getting to the island is not a big deal as it is very close to Krabi, and there are plenty of speedboats to take you from one place to another. You want to spend time away from the hustle and bustle of the city and then catch the next flight to visit this idyllic island of Koh Kradan. The crystal clear cyan water and pearly white sand that punctuate every beach on this island will mesmerize you at first sight. The island takes its name from its own oblong, oblong shape. Over the years, it has gained a reputation for serenity and tranquillity.
Koh Kradan Beaches
Paradise Beach: This main beach on Koh Kradan, located on the island's east coast, has most of the resorts and restaurants to explore. This part of the island has a rich coral reef, so divers will fall in love with this beach. You will be amazed at the fantastic sight of the limestone castles framing the island of Koh Muk in the distance. 
Ao Niang Beach: This beach is only accessible by boat. Sandy beach in Ao Niang, you will surely fall in love with the place. It is surrounded at both ends by substantial black volcanic rocks. Old-style bungalows line the beach with a small restaurant on the side for al fresco dining and drinks while enjoying the spectacular views. Abundant coral meets a vase of aquatic life, making the beach ideal for snorkeling. 
Ao Pai Beach: This small beach has no accommodation. Therefore, nature lovers will find the calm and unspoiled beauty of the beach pleasant in a relaxing way. /p> You can spend a quiet afternoon alone on this beach without anyone disturbing your deepest thoughts. 
Sunset Beach: Known locally as Ao Chong Loam Beach, this place is located west of Koh Kradan island. This 800-meter-long beach is famous for its extraordinary sunsets. You can take a long walk on the beach or go up the hill from where you can see the beautiful island of Koh Rok and the vivid sunset. This view from the top of the hill is worth every step you climb to get there.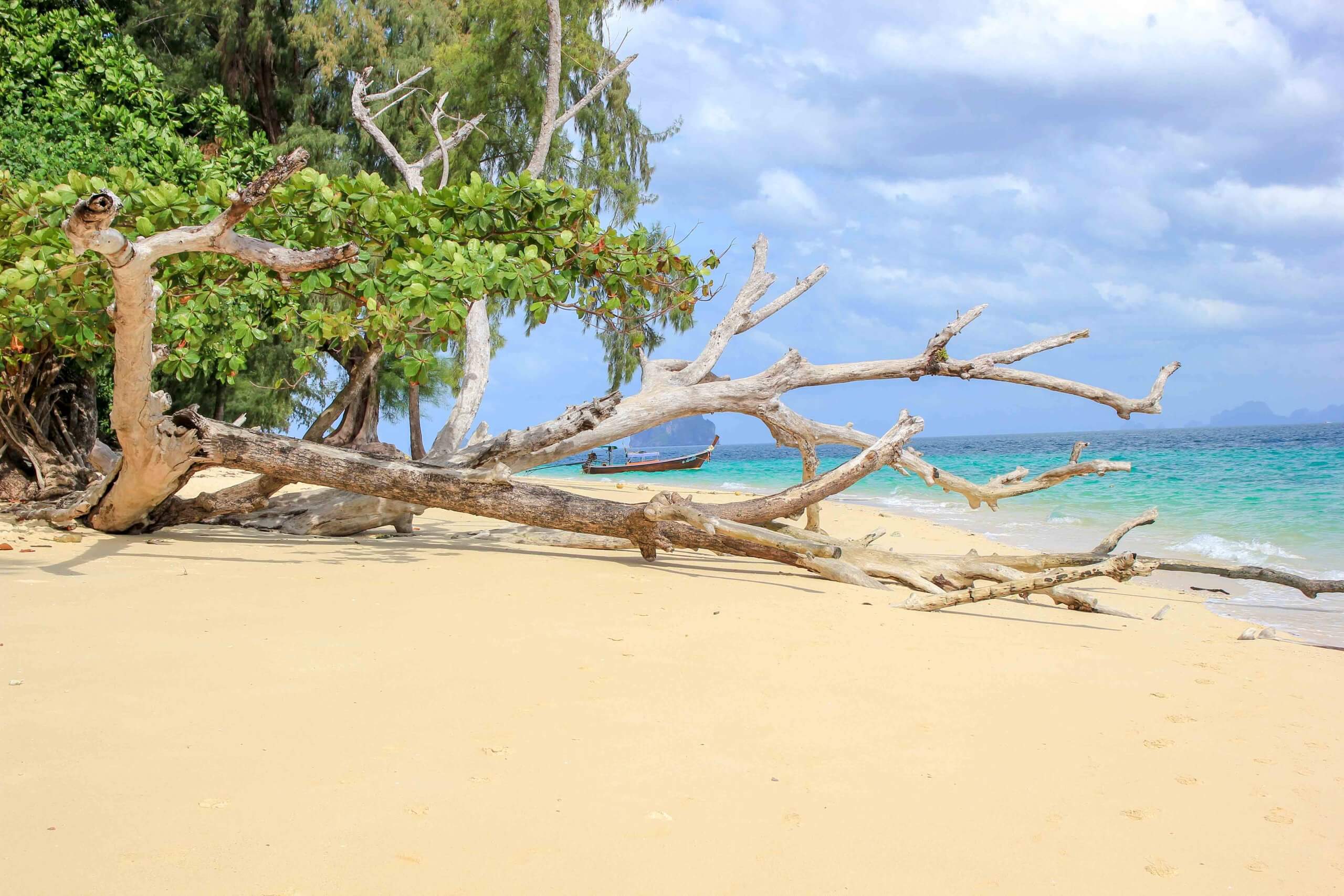 Weather and Best Time to Visit
The best time to visit Koh Kradan Island is from December to March. At this time of the year, the island's climate is more comfortable and pleasant. The water levels allow for activities such as deep-sea diving and snorkeling. From May to October, most activities on the island are not allowed for tourists, and there are restrictions on many places to visit. Some resorts on Koh Kradan and other neighboring islands in Trang Province are also closed.
How to Reach Koh Kradan 
Koh Kradan is located in Trang Province. So if you arrive at Trang Airport, take a minivan from there to Khuan Tungku Pier. You can board a longtail boat at the pier that will take you to Koh Kradan in about 30-40 minutes. There is also a regular ferry service from Krabi to Koh Kradan Island and vice versa.
Koh Kradan Accommodation & Where to Stay
If you're on a budget trip, consider renting a bungalow instead of staying at a resort. Bungalows on the Koh Kradan are in great demand and book up quickly. It is therefore advisable to make a reservation. You can rent tents in Hat Chao Mai National Park. Most resorts on Koh Kradan are beachfront.
There aren't many modern conveniences, but staying at a resort can be much more comfortable than staying in a tent.