Stem cells: What they are and what they do
Cells in the body serve specific functions, but stem cells are cells that do not yet have a specific function and can become almost any required cell.
What is a stem cell?
A stem cell is an undifferentiated cell that can divide to produce offspring cells that will continue to be stem cells and cells that will differentiate (become specialized). Stem cells are an ongoing source of differentiated cells that make up animal and plant tissues and organs.
Stem cells are gaining popularity due to their potential for use in developing therapies for replacing defective or damaged cells caused by various disorders and injuries, including Parkinson's disease, heart disease, and diabetes.
Stem cell research has been ongoing for more than 50 years due to stem cells' unique ability to divide and replicate repeatedly. Furthermore, their unspecialized nature allows them to differentiate into a wide range of tissue types, giving them enormous potential for use in living cell therapies.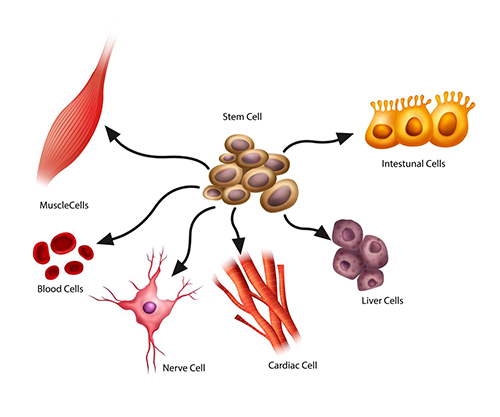 Different types of stem cell
Stem cells are classified into three types:
embryonic stem cells

adult stem cells

induced pluripotent stem cells
Embryonic stem cells: These are derived from the inner cell mass of a blastocyst, a stage of development that occurs just a few days after fertilization. They have the ability to differentiate into all cell types in the body and are considered to be pluripotent.
Adult stem cells: These are found in various tissues and organs in the body and are thought to be responsible for the maintenance and repair of those tissues. They are generally more limited in their ability to differentiate than embryonic stem cells, but they can still give rise to various cell types.
Induced pluripotent stem cells (iPSCs): These are adult cells that have been genetically reprogrammed to have properties similar to embryonic stem cells. They can be derived from a variety of cell types, including skin cells, and can differentiate into many different cell types.
Cord blood stem cells: These are found in the blood that remains in the placenta and umbilical cord after birth. They have the ability to differentiate into many different cell types and can be used to treat a variety of diseases.
Tissue-specific stem cells: These are found in specific tissues or organs and have the ability to differentiate into cell types specific to that tissue. For example, hematopoietic stem cells found in the bone marrow can differentiate into blood cells.
Uses of Stem Cells:
Stem cells do not serve a single purpose but are important for a variety of reasons.
First, under the right conditions, many stem cells can take on the role of any type of cell and regenerate damaged tissue.
This capability has the potential to save lives or repair wounds and tissue damage in people following an illness or injury. Scientists see numerous applications for stem cells.
Tissue regeneration is the most important application of stem cells.
Previously, a person needing a new kidney, for example, had to wait for a donor before undergoing a transplant.
Donor organs are scarce, but scientists could use stem cells to grow a specific tissue type or organ by instructing them to differentiate in a particular way.
As an illustration, doctors have already created new skin tissue using stem cells found just below the skin's surface. By grafting this tissue onto the injured skin, they can treat a severe burn or other injuries, and new skin will regrow.
Cardiovascular disease treatment
Stem cells have the potential to be used in the treatment of cardiovascular diseases, such as heart attacks and heart failure. In a heart attack, the blood supply to a part of the heart is blocked, which can cause damage to the heart muscle. Researchers are studying the use of stem cells to repair damaged heart tissue and improve heart function in people who have had a heart attack.
One approach to using stem cells in the treatment of cardiovascular diseases involves injecting stem cells directly into the damaged area of the heart. These stem cells can then differentiate into heart muscle cells, which may help to repair the damaged tissue and improve heart function.
Another approach involves using stem cells to stimulate the growth of new blood vessels, which can help to improve blood flow to the heart. This may be useful in the treatment of conditions such as coronary artery disease, which occurs when the arteries that supply blood to the heart become narrow or blocked.
It is important to note that the use of stem cells in the treatment of cardiovascular diseases is still in the early stages of development and further research is needed to determine their effectiveness and safety.
In the future, doctors may be able to treat brain disorders like Parkinson's and Alzheimer's using replacement cells and tissues.
For instance, Parkinson's disease causes uncontrollable muscle movements due to brain cell damage. Scientists could use stem cells to repair damaged brain tissue. The specialised brain cells that stop the uncontrolled muscle movements may return.
Treatments are promising because embryonic stem cells have already been tried to be differentiated into these types of cells.
Adult hematopoietic stem cells are now frequently used by doctors to treat illnesses like leukaemia, sickle cell disease, and other immunodeficiency issues.
All blood cell types, including the oxygen-carrying red blood cells and the disease-fighting white blood cells, can be produced by hematopoietic stem cells found in bone marrow and blood.
Read from the document: Clinical application of mesenchymal stem cell in regenerative medicine a narrative review