Thailand's special meals
When in Thailand, eat like a Thai. Food in Thailand is an assemblage of many beautiful sights, sounds and smells characteristic of the country's culture. The streets are never empty and are mostly filled with food vendors. And stalls that create a sensual experience as you walk past. Giant woks and pots sizzle with food, spices and herbs of all kinds, forcing you to stop, look and taste. Not you, Ding; countless Thai restaurants across the country offer you the same delights. Thai cuisine has a high status among world cuisine.
Here Are the Best Thai Food Dishes to Try
Tom Yum Goong – Spicy Thai Soup with Shrimps and Herbs
This list could only start with Tom Yum. Tom Yum soup is one of the most popular features of Thai cuisine. The most popular variant is tom yum goong, a sweet and sour soup dish with spices, shrimp, vegetables and herbs. One serving fills you up relatively well due to the numerous ingredients but is so delicious that a single serving is not enough, and you are forced to eat a second serving. Each spoon contains a tasty punch that's exceptionally healthy. It's made with shrimp, mushrooms, lemongrass, kaffir lime leaves, galangal, lime juice, fish sauce and crushed chilli peppers, all mixed into a light, watery broth that makes it one of the most famous Thai dishes around the world. The USP of this dish is its spiciness, but you can also order a mild version with coconut milk. And if you don't have enough, you can also buy Tom Yum pasta, which is readily available in the markets and given a homemade touch.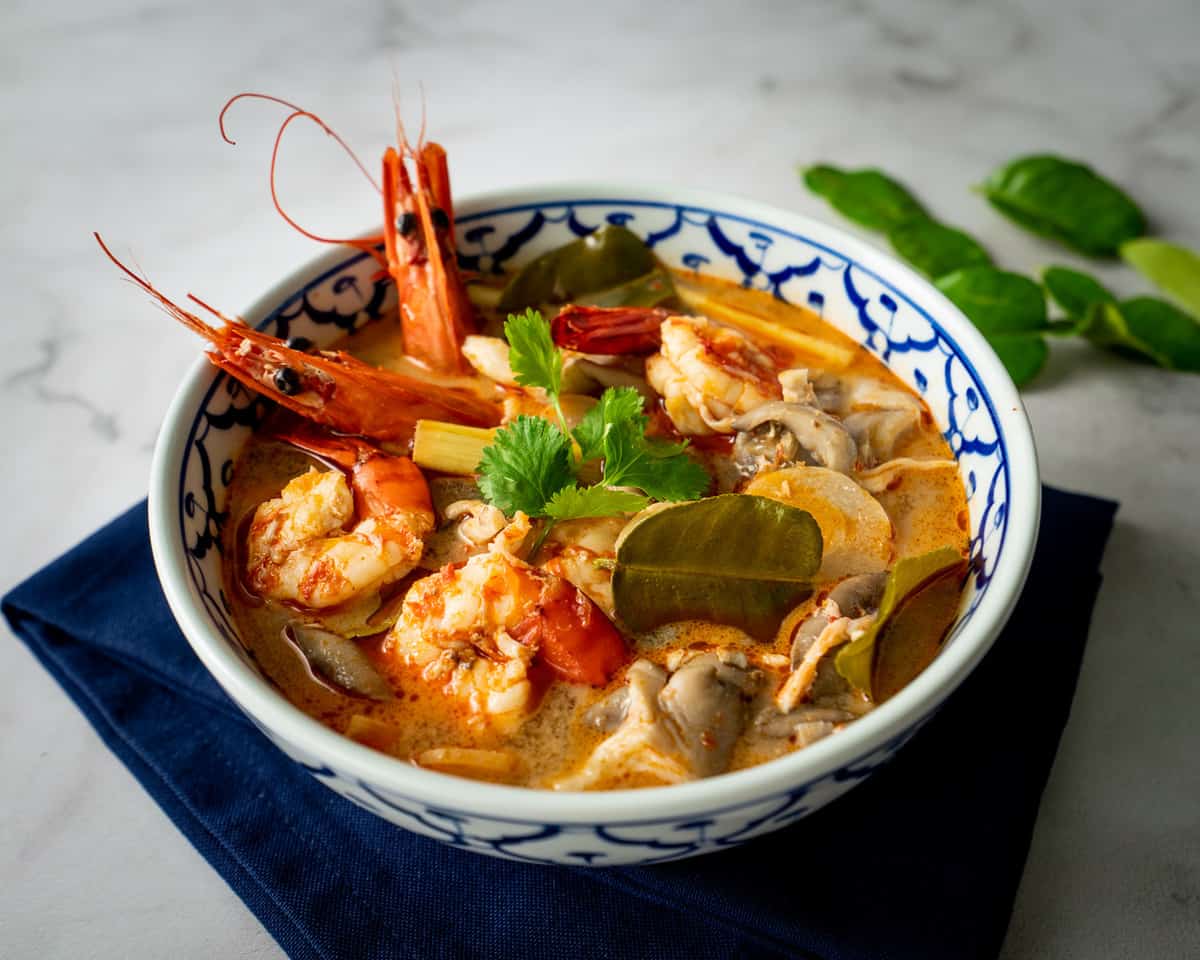 Som Tam – Green Papaya Salad Green Papaya Salad
Known locally as Som Tum, it is one of Thailand's most treasured culinary creations. It is a spicy composition made from strips of green papaya combined with various vegetables and other ingredients, containing a potpourri of spicy, sour, spicy and sweet flavours. All spices, garlic, chilli peppers, green beans, cherry tomatoes and raw papaya are crushed in a mortar, bringing out the individual taste of each ingredient. Eat an exciting and fun texture. The dish has a distinctive spicy flavour typical of Thai food and can please even foreign taste buds. You can find many variations of this dish across the country, some with dried shrimp, salted crab and sausage and others with peanuts, asparagus and Thai eggplant. This is an essential Thai staple as it is easy to prepare and enjoy.
Khao Phat – Thai Fried Rice
Khao phat, a type of Thai fried rice, is one of the most famous foods in Thailand and finds its place among the must-haves of the world. It tastes better than regular fried rice and is, of course, a national favourite. It can be eaten at any time of the day and is so tasty that it is often consumed as an independent dish without any side dishes. Thai jasmine rice is used, which has a pleasant aroma. Other ingredients include Meat (chicken, shrimp, crab, pork), egg, onion, garlic, Tomatoes, chives and lime. Khao phat is flavoured with many sauces and pastes; soy sauce, hot sauce and fish sauce are the most common. This Thai food has many variations, especially in Southeast Asian countries, such as Khao phat maphrao (coconut fried rice), Khao phat kaphrao (fried rice with basil), Khao phat mu (fried rice with pork), and Khao khluk Kapi (fried rice with shrimp paste). The dish does not affect the taste.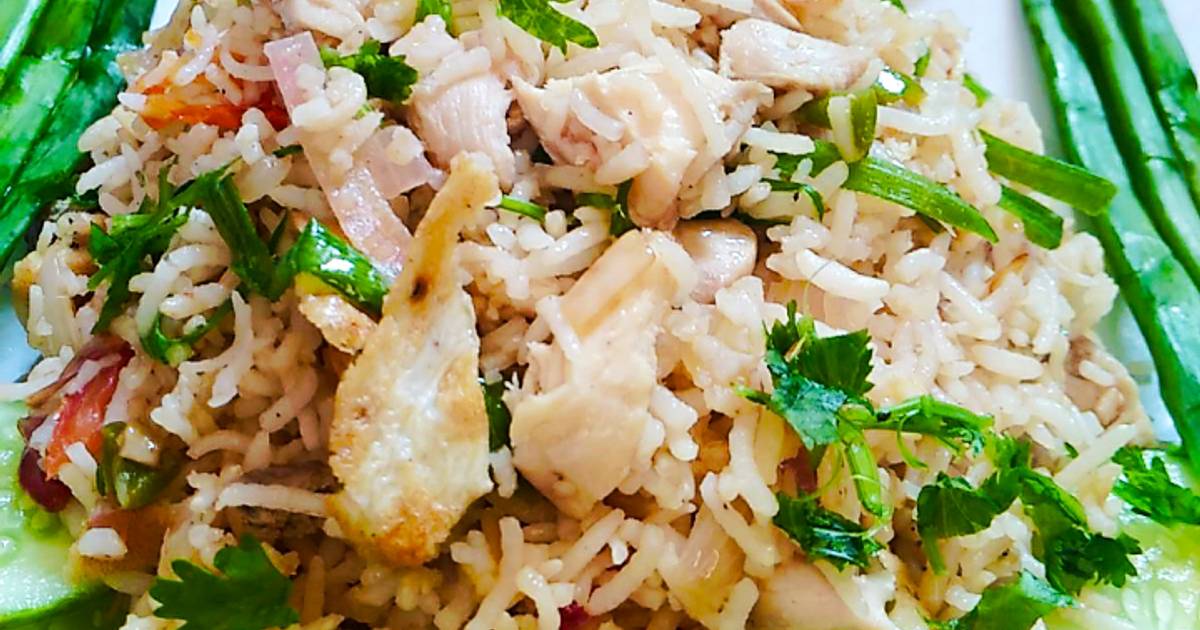 Gaeng Keow Wan Gai – Thai Green Curry
If you haven't tried gaeng keow wan gai, have you tried Thai food? Gaeng Keow Wan Gai, or Thai Green Curry, is a must-try in Thailand. Its name derives from the colour green. Of its curry and is relatively milder than its red counterpart. Its base of coconut milk and green chilli complement each other to create a deliciously flavorful dish. Gaeng Keow Wan Gai contains a variety of vegetables such as Thai eggplant, eggplant with peas and other vegetables, and Meat like fishballs, beef and chicken. Various sauces are also used to prepare this dish, ranging from green curry paste (made with herbs like lemongrass, kaffir lime, coriander, garlic, and cumin) to fish sauce. The result is a thick, creamy soup that tastes as healthy as it looks. Green curry is best served with rice or eaten as a noodle dish called Khanom chin.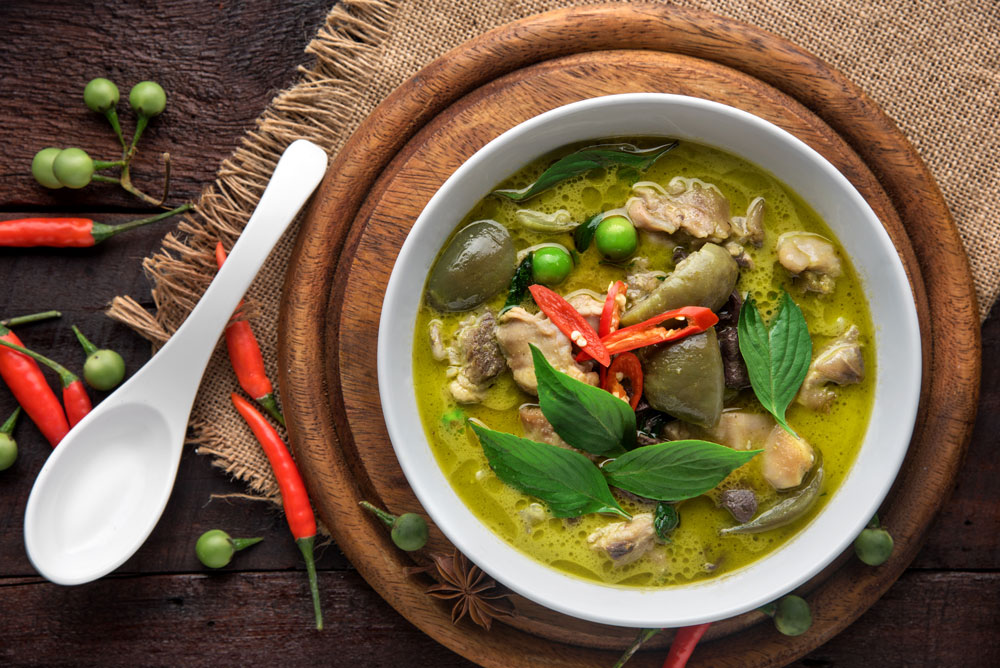 Chim Chum – Hotpot of Meat and Vegetables
This dish is as intriguing as its name. Chim chum is a popular Thai street food enjoyed in many parts of Southeast Asia. Interestingly, the name of this Thai food derives from its way of cooking and eating. Chim refers to dipping, while chum refers to quickly dripping something into the broth. When walking the streets of Thailand, the preparation of Chim Chum is hard to miss as it is cooked in a clay pot fired over a traditional charcoal oven. The broth is delicious; it consists of broth, galangal, citronella, kaffir lime and basil. Once the broth is ready, vegetables and Meat (usually pork) are added one at a time, cooking for no more than a few minutes. Along with the glass noodles, the heart can be dipped in Nam Chim (a special sauce) and eaten right away for a wholesome meal you can't get enough of, making it a must-try in Thailand.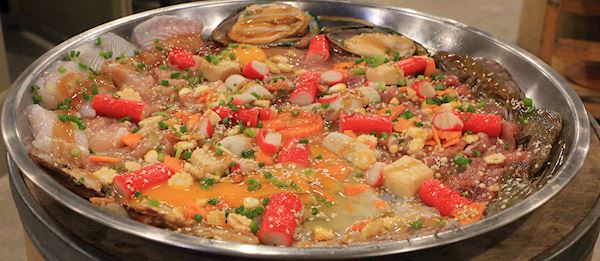 Khao Niew Moo Yang – Thai Style Grilled Pork and Sticky Rice
Khao niew moo yang is undoubtedly one of Thailand's most famous street foods and is a perfect choice for a bite on the go. It's a simple dish that combines Thai-style roast pork and sticky rice. The skewered pork is very flavorful and is first marinated in coconut milk, coriander, pepper, garlic, fish sauce, lemongrass and palm sugar and then grilled to perfection. Although there is no sauce, the treat has a nice flavour that goes well with it. With rice, The meat has a mild flavour, so it's sometimes complemented with Nam Jim Jeaw hot sauce. In many places, moo yang, i.e., dry grilled pork, is also enjoyed on its own without rice. You can find Khao Niew Moo Yang almost anywhere in Thailand, starting at prices from just THB 5 to THB 10, making it the ultimate snack and favourite Thai food.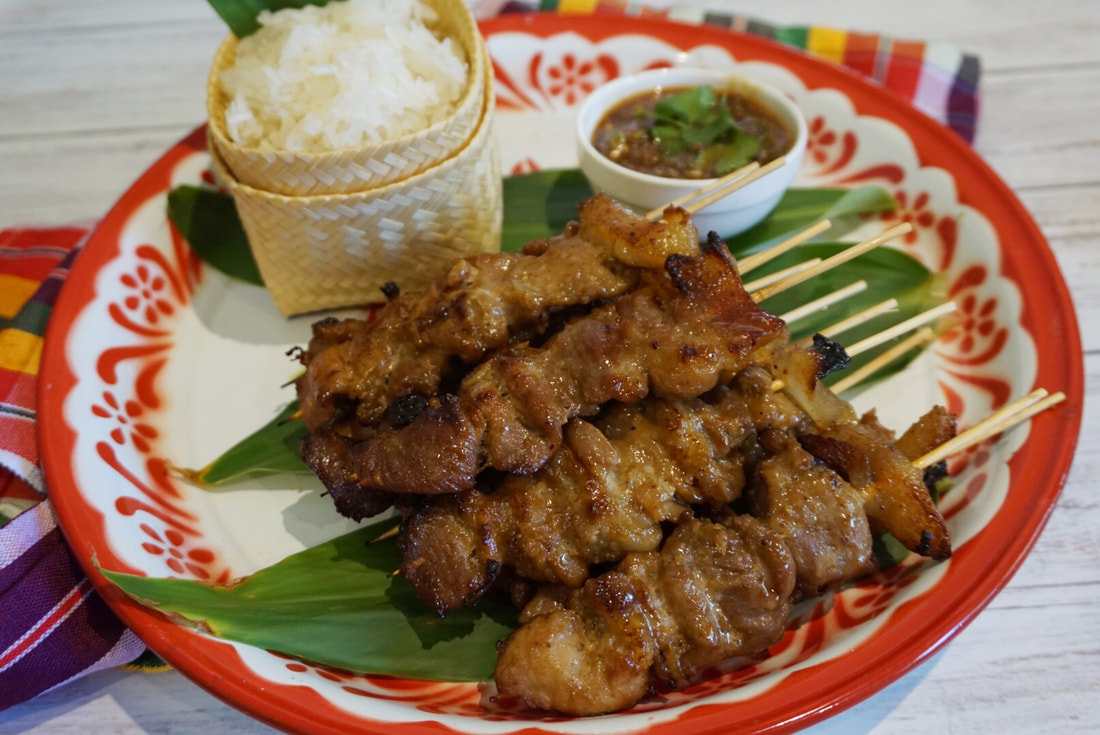 Yam Nua – Beef Salad
Yam Nua is a straightforward beef salad mix that will be the perfect accompaniment to you and your beer on a warm summer's day. It is available in many restaurants and street stalls in Thailand, but you can even enjoy it in the comfort of your own home as the recipe to prepare it is so simple. This spicy beef salad has all imaginable flavours, from sour to spicy, hot to sour, etc. Different places that serve Yam Nua use other herbs. And spices to prepare it, but the basic spices are lemongrass, kaffir lime leaves, shallots, coriander, mint, lettuce, cucumber, garlic and Thai chilli. As with most Thai dishes, this salad also includes a generous helping of fish sauce (nam pla) to add a bit of spiciness to the flavour. You do not forget the main ingredient, juicy cuts of steak that makes up the central part of the salad, full of savoury sauces and flavours that will give you a gastronomic high.
Pad Thai – Stir Fried Rice Noodles with Meat and Vegetables
Pad Thai noodles, a signature dish of Thailand, can now be found on menus around the world. So, when in Thailand, you cannot afford to miss a plate of this dish, prepared the authentic Thai way. The best thing about this Delight is that you can't go wrong because it's so convenient and customisable to suit your tastes and preferences. It consists primarily of stir-fried rice noodles, topped with a wealth of flavours and local ingredients that will delight your taste buds.
The ingredients needed to make these noodles are varied, from tamarind pulp, fish sauce, beets, garlic, shallots, peppers, palm sugar, and lime to roasted peanuts. The pasta dish often includes one or more types of meat, such as shrimp, crab, squid, and chicken. Although every restaurant menu mentions this item, the best types of pad thai are available from inexpensive street stalls. They are often among the most delicious dishes in the world. Pad Tha noodles are an essential food in Thailand.
Larb Muang Moo – Northern Thai Style Chopped Pork Salad
Larb Muang moo, also known as leap, is a spicy meat salad most popular in northeastern Thailand. It originally came from Laos, but its popularity has since spread to many countries in Asia, where several variations can be found. Consumed. The most important part of Thai Larb is the selection of spices, collectively known as Phrik Lap, from which it is made. From cumin, cloves, long pepper, star anise, prickly ash seeds and cinnamon, these dried spices add an incredible flavour to Larb Salad.  The salad is served with ground meat such as chicken, pork, duck and beef. Sometimes the animal's blood, fat, kidneys etc., can be used in salads for an extra kick. Although it may be a foreign concept to foreigners, this larb preparation is enjoyed as a meal in Thailand. Larb Salad is a dynamic dish and can be paired with everything from rice noodles to glutinous rice and raw vegetables.
Khao Niao Ma Muang – Mango Sticky Rice
Every meal should end on a sweet note. One of Thailand's most famous dessert dishes, Khao Niao Ma Muang, is a household name. It is known in English as Mango Sticky Rice due to the two main ingredients used to prepare this dish. Its simple and unusual combination is the first thing that catches the attention of foreigners, followed by its captivating deliciousness that makes it a must-try in Thailand. It's a no-frills traditional Thai dessert made with glutinous rice, mangoes and coconut milk. The cooking method is quite simple, which is one of the reasons for its popularity and heavenly taste.
Sticky rice is boiled and then left to stand, mixed with sweet coconut milk. The rice soaks up the milk. And served with peeled mango slices/chunks on the side. Khao Niao Ma Muang is best enjoyed fresh after preparation when all the gooey, sweet goodness is at its peak.