US Visa from Thailand
Tip:
It is important to hire a Thai consultant who lives in Thailand and speaks Thai. The American lawyer cannot understand Thai, so there will be communication problems. A Thai consultant takes care of all application forms, including translating Thai documents into English, help with obtaining a police permit and scheduling a medical examination, and most importantly, a Thai consultant will prepare your Thai partner for the visa interview. 
The United States is one of the most popular travel destinations in the world. However, without a US immigration attorney, it can be difficult to obtain a US tourist visa from the US Embassy in Thailand. If you wish to enter the United States, you must first apply for a US tourist visa at the US Embassy in Bangkok or the US – Consulate in Chiang Mai.
The US tourist visa the USA temporarily for business (B1) or as a tourist or visitor (B2). 
US Business Visa Thailand (B1)
If your intended trip is to confer with potential business partners, travel to explore new business opportunities, educational endeavors, professional or trade seminars, attend a conference, or negotiate a business agreement. A business visa (B1) is required. A visitor visa would be the appropriate type of visa for your trip. US business visa applicants from Thailand have a high approval rate if you provide the relevant supporting documents, such as Thai company registration.
corporate income tax receipts, VAT receipts, Thai Employee social security payments, Thai bank statements for the last 3 years, company loans, a listing of business assets, and the applicant's need to attend to US business.
US Tourist Visa Thailand (B2)
If the purpose of your intended trip is a holiday or vacation, including tourism, sightseeing, visiting friends or family, relaxation, hospital treatment, and activities of a social or service nature, then a Visitor Visa (B2) must be an appropriate visa to enter the United States.
The US tourist visa allows a Thai citizen to travel to the United States. A B2 tourist visa issued by the US Embassy in Thailand can allow the Thai citizen to travel to and from the United States for up to 10 years. With each entry into the United States, the B2 visa holder can obtain an approved length of stay of up to six months. Asking a Thai bride to travel to the US for a short vacation and meet her friends and family is going to be a difficult process. The Thai bride must prove that she plans to return to Thailand.
If there is an intention to get married, the officials at the US Embassy in Thailand will most likely reject the tourist visa application and advise the Thai bride to apply for an appropriate visa, such as the K1 visa for Thailand.
When pushing their girlfriend to apply for a US tourist visa, many US citizens are unaware of this issue. When the consulate official learns about the love relationship during the US visa interview, the Thai girlfriend's US tourist visa application is likely to be denied. The interviewer will assume that the applicant will remain in the United States and not return to Thailand. If the couple had approached US Embassy authorities in Bangkok prior to applying for the tourist visa, they might have been encouraged to file for the K1 fiancé visa in Thailand instead.
However, if the Thai applicant is a legitimate tourist who intends to enter the US solely for tourism purposes, meets the financial and visa requirements, and can provide supporting documentation for the tourist visa application, then the US tourist visa is for him or her.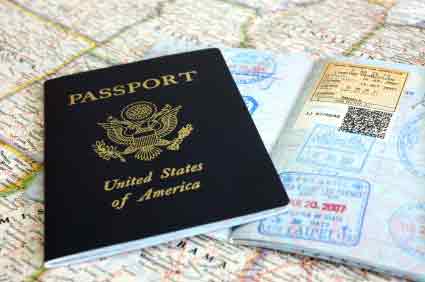 Applying for a US Business/Tourist Visa Thailand
1- Complete the required DS-160 online application form
The first step in the process is to submit your information as well as details about your visit, also known as the DS-160 form. Fill out the sections for your US Tourist visa and submit it online. The online form could take 45 minutes to an hour to complete, so be thorough when filling it out. You will receive a verification page and code after submitting it, which you will need for your visa application packet.
2- Pay Visa Application Fee
After receiving confirmation of your DS-160 form, the US Embassy will send you payment instructions for the visa fee. You print out the payment instructions and pay the fee at any Krungsri Bank branch in Thailand. The US visa fee is 4960 baht.
3- Schedule the US Visa Interview
After paying the US visa fee, schedule a visa interview. In order to receive this interview, you must schedule it through the US Embassy Bangkok website. Due to the heavy workload, you should schedule this as soon as possible. Possible or before your planned trip to the USA. When you complete this process, you will receive an interview confirmation letter to bring with you to your interview.
4- Prepare the Application Packet
The following documents are required for a B1/B2 US Visa application and must be brought to the interview:
Valid passport
Passport Photograph (2×2 inches)
Form DS-160 confirmation page and code
Receipt of payment of the visa fee
Interview confirmation page
A letter that describes the purpose of your trip
Proof of financial means. Financial or bank statements to prove you have the finances to stay in the US
Compelling social and economic ties to Thailand, such as Family, job contract, lease contract, or property deed, prove you will return.
US visitor visa invitation letter from friends or family in the US (optional)
Criminal record checks or letters from authorities stating that you do not have prior convictions.
Documents relevant to your prior US visa application or visits to the US. This only applies if you have visited the US before or if you have been refused a US visa.
Educational transcripts or diplomas. This only applies to students.
A letter from your employer and payslips for the last three months. If you are currently employed.
A letter from the company detailing the purpose of the trip and your job position (for business purpose)
5- Attend the Visa Interview
A US Embassy consular officer will question you about your background and why you want to visit the US on the day of your interview. They will review your documents to ensure that they are in order. The interviews are brief, so answer all questions truthfully and disclose all relevant information to avoid problems later on.
You will be informed of the outcome of your visa application at the end of the interview. If your visa is approved, the consular officer will collect your passport. You can pick up your passport at a post office or have your passport and visa mailed to your home address.
Read also: https://onestopthai.com/thailand-retirement-visa/